One of Mount View's more unique ministries,
the church now partners once a month with the
Union Gospel Mission
in Portland. Ministering through their Homeless Services, Mount View helps to provide a hot meal to the homeless while sharing the love of Christ through music and the preaching of God's Word. On the second Thursday of each month, Mount View takes a volunteer team to the Mission. Once there, the team hosts a brief chapel service and then serves food to the homeless. Opportunities for ministry include music, preaching, sharing a testimony, serving hot food, busing tables or just being a friend. Through the efforts of the
Union Gospel Mission
, the message of salvation through faith in Christ has been extended to those living on the streets and often forgotten by traditional evangelistic methods. Mount View is honored to partner with this historic institution in reaching out to Portland's homeless.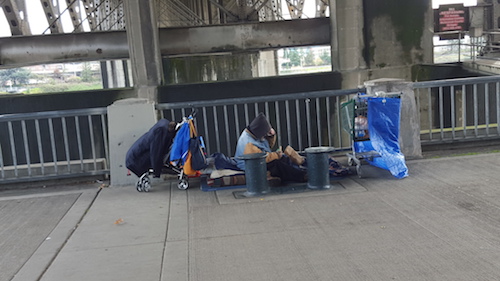 If you are interested
in donating items for this unique ministry, please click the link below for a list of suggested items most often needed by the homeless, and to arrange for someone to pick up your donations. Everything donated will be taken to the
Union Gospel Mission
for distribution.